CerV Vision
CerV is a non-profit, 501(c)3 corporation, funded through private foundations, individuals, and government grants committed to future development of innovations and technology. Headquartered in Dallas, Texas, CerV's mission is to value, impact, and support the teaching profession.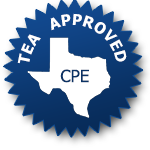 Find Out More
All CerV programs are approved for CPE credit.
CerV is a Texas-based 501(c)3 organization supported through individual gifts and foundation grants.