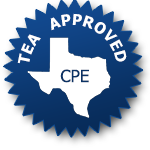 30 Hours of CPE Credit
The Confer® Mentoring program is TEA approved (CPE #902120) and upon successful completion, the candidate will receive 30 hours of continuing education credit.

TEA Reimbursement
TEA reimburses schools/districts up to $450 through its AP/IB Incentive Program, Teacher Training Reimbursement (TTR). Click here for more information.